As some of you may be aware Mitchells are proud supporters of Nottingham Hospitals Charity, This year they have asked us to help support the work they are doing at Hayward House to raise 1.5 million pounds for enhancements to benefit patients and families being treated at Hayward House, which is located at the City Hospital in Nottingham.
Who is Hayward House and why help them?
That's easy really.
Hayward House is a unique home-from-home environment, where patients with advanced, progressive and terminal illnesses, including those at the end of their life, are cared for by a specialist team of doctors, nurses and therapists.
The £1.5 million Hayward House Appeal will help to fund a range of enhancements to the palliative care centre, including improvements to the garden area, making it a more accessible and tranquil space for patients and family members to utilise. They also plan to create an improved welcoming reception and waiting area and expand the centre's research and training facilities.
You can read more about the Nottingham Hospitals Charity appeal here.
The 1654 Project
Throughout the month of June, Mitchells team members will be cycling from Lands End to Hayward House Via John O Groats! A distance by road of 1654 miles!
"The 1654 Project" will see our entire team take it in turns to cycle each day using an exercise bike in our office, over 26 days we will cover a total of 1,654 miles, hopefully, we will then jump on physical bikes and finish the last leg in-person to mark the completion of the project.
We would like to try and raise a minimum of £2,000 for this project. Every donation matters and all donations should be made through our just giving page.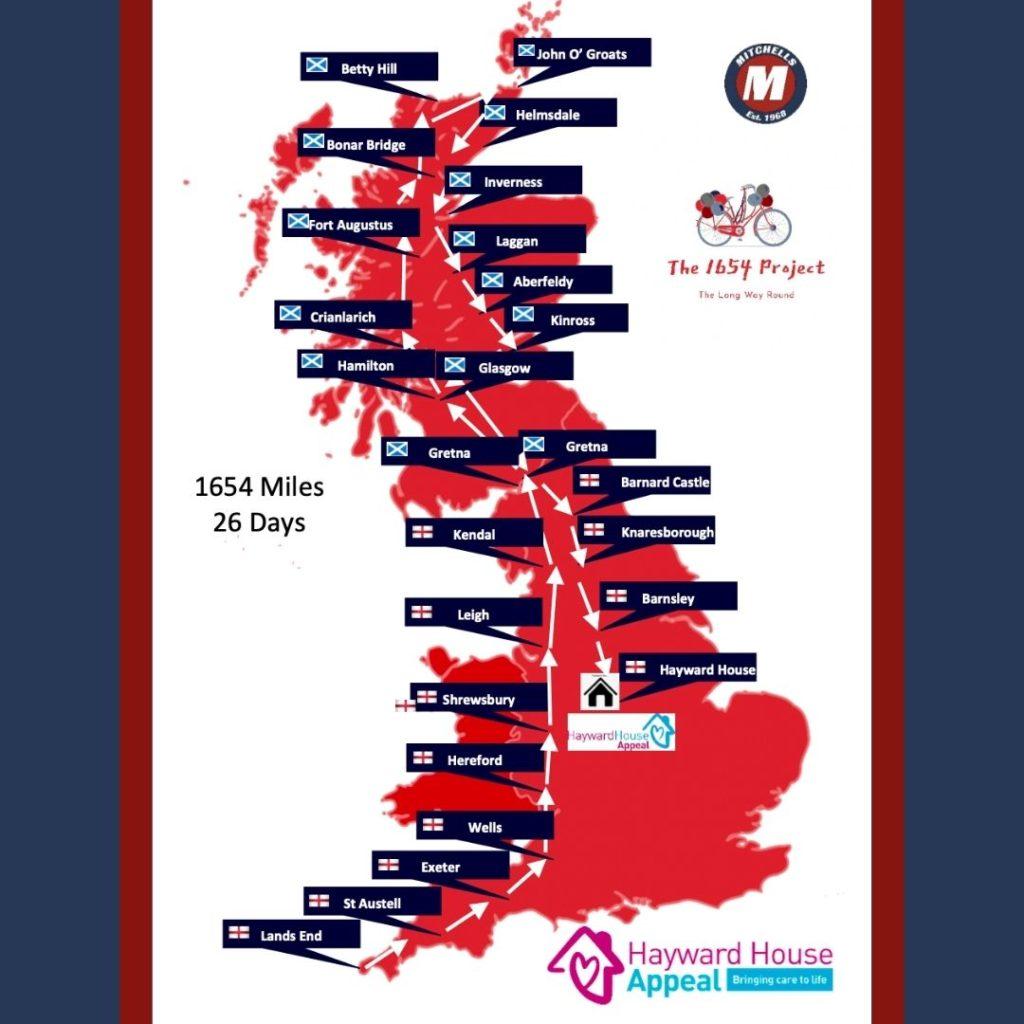 Dragon Boat Race
Over the weekend of the 16th & 17th of July, members of the Mitchells team will swap their steering wheels or keyboards for oars as they take charge of a Dragon Boat! (𝘞𝘦'𝘳𝘦 𝘯𝘰𝘵 𝘴𝘶𝘳𝘦 𝘸𝘩𝘰 𝘴𝘩𝘰𝘶𝘭𝘥 𝘣𝘦 𝘮𝘰𝘳𝘦 𝘤𝘰𝘯𝘤𝘦𝘳𝘯𝘦𝘥, 𝘰𝘶𝘳 𝘮𝘢𝘯𝘢𝘨𝘦𝘮𝘦𝘯𝘵 𝘰𝘳 𝘵𝘩𝘦 𝘰𝘱𝘱𝘰𝘴𝘪𝘵𝘪𝘰𝘯.)
The race will take place at Victoria Embankment, Nottingham where our team will go head to head with three other boats, the winner of which will then go on to the final.
We are trying to raise a minimum of £1,000 for this event and donations can be made using the following Justgiving page.
Not Just Any Raffle
As if all of the above wasn't enough we will also be holding a raffle for all our customers and staff.
Some of the prizes already include a helicopter flight for two people, a supercar day, afternoon tea for two, a burger and craft beer experience for two, a hot tub for a week and a variety of Amazon vouchers.
We are still interested in building on these already amazing contributions so if you are able to offer any items or experiences then please email our sales@mitchellsofmansfield.com address and Richard or Rachael will be in contact. Similarly, if you wish to purchase tickets you can also drop us an email!
Thank You
Every penny will help this worthy cause. We really appreciate and thank you in advance for anything you can donate to help with this appeal. We'd also like to take this opportunity to say thank you to our amazing team who take any fundraising challenge on without grumbling and always with a smile. We are very fortunate to have such a commendable team of kind, caring people.
You Can Get Involved Too
If you would also be interested in supporting this appeal yourselves you can always get in contact with Joanne Burr at Nottingham Hospital Charity by email at: Joanne.Burr@nuh.nhs.uk