Did you know only 2% of HGV drivers in the UK are female? In a male-dominated industry, Mitchells want to shine a spotlight on our female truck drivers and how they're breaking barriers in the industry. Only 5.7% of LGV vehicle tests passed from April 2021 to March 2022 were female, compared to 58.3% vehicle tests passed by males. Although this figure is starting to improve with more interest from women taking their LGV exam, almost doubling from 2015, there's still a huge disparity in a male-dominated industry.
We're all in it together at Mitchells
We believe family values go a long way. This means ensuring everyone is involved in the family and no one is left out. We believe in progress and movement, which means the progress of individuals, regardless of gender.
With the rise of influencers and so many different social media platforms to choose from, anyone with enough of the right followers can use social media as a tool to become an influencer to highlight their own lifestyle.
Some of our female drivers post about their lives on the road on social media. Nicola Wain, mum to a 9 week old achieved her Class 1 driver's licence back in April 2021. Nicola can be found on Instagram as @truckernicnak and on TikTok as @nottsgirlytrucker, showcasing what life is like working for Mitchells and as an HGV driver.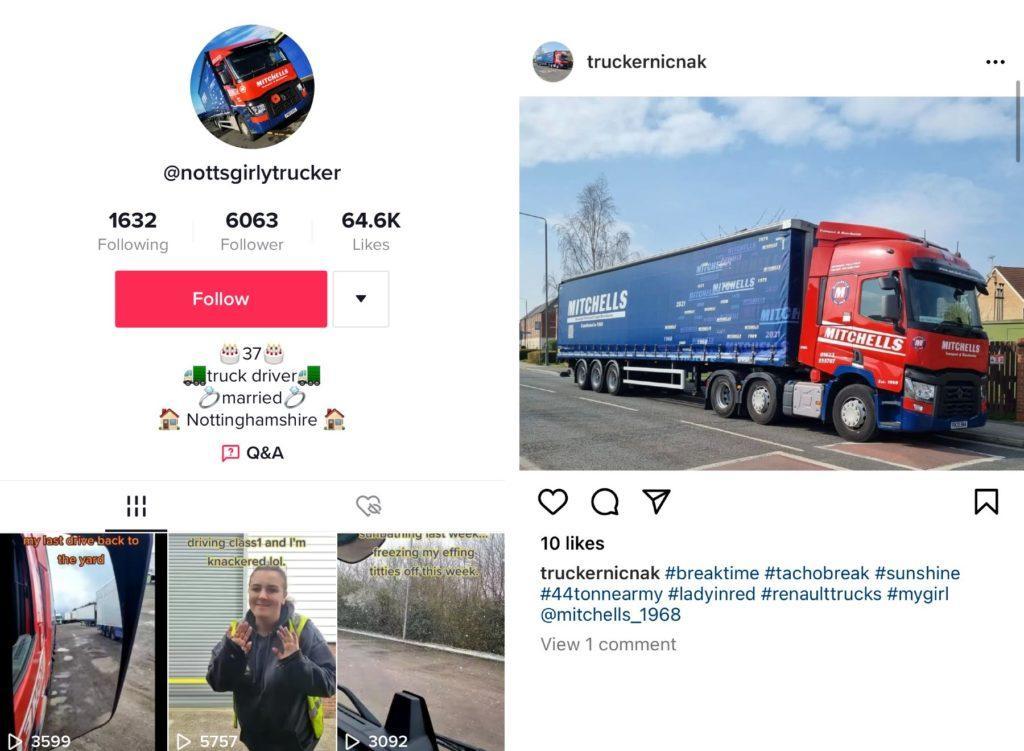 The tide is turning
There are still challenges for female drivers in the industry. However, the tide is starting to turn, and what was once seen as a 'boys club' is quickly changing.
Positive role models in the news and on TV are helping to break the stigma around the haulage industry. Take the BBC Three documentary, Queen of Trucks. This follows Shannan Paterson encouraging more young female drivers to take up a career in the HGV industry.
With social media being a huge part of many peoples' lives, it's becoming easier to take a look into different walks of life and is the perfect place to showcase the female trucker lifestyle. Take YouTuber Truck Driver Hayley for example, who has 15.4k subscribers and over 1.5 million views on her channel where she offers tips, reviews and vlogs her achievement of gaining her Class 1 C & E HGV Licence.
Championing our female truck drivers
At Mitchells, we believe it's important to showcase our female truck drivers and highlight their achievements. We love to showcase our team's achievements and show our customers life behind the scenes. We especially want to shout about our female truck drivers and the outstanding service they provide for our customers, as working in a male-dominated industry with so many challenges, they make it look easy.
We want to be at the forefront of the conversation to encourage women to be a part of this industry and showcase the women who have already accomplished so much.