We're passionate about creating a future for the next generation. One where we've made positive changes to help our planet.
We've had our carbon footprint assessed by The Carbon Footprint Standard
We've made changes at HQ for our carbon emissions by replacing our diesel forklift fleet with electric vehicles.
We've partnered with Ecologi to help offset the emissions we can't reduce.
We have introduced LED/PIR lighting throughout our build and yard.
We have invested in the latest reduced-emission diesel engine vehicles.
And now we've taken the biggest step of all!
Breaking the mould
Mitchells are the first company in the UK to receive the 18-tonne E-Tech electric curtain-sided truck from RH Commercial Vehicles, the East Midlands' largest independent Renault Trucks dealer.
At Mitchells, we're not afraid to put our hand up and be counted. We're proud to be leading the way in electric vehicles for distribution companies in the UK. As all eyes are on us and our newest addition to the fleet, we understand the pressure of succeeding, not just for us but for our planet too.
"We want to set the benchmark for the palletised market, by leading the way in electromobility. We want to be a sustainable business, built on trust, sincerity and responsibility"

Richard Montgomery MD of Mitchells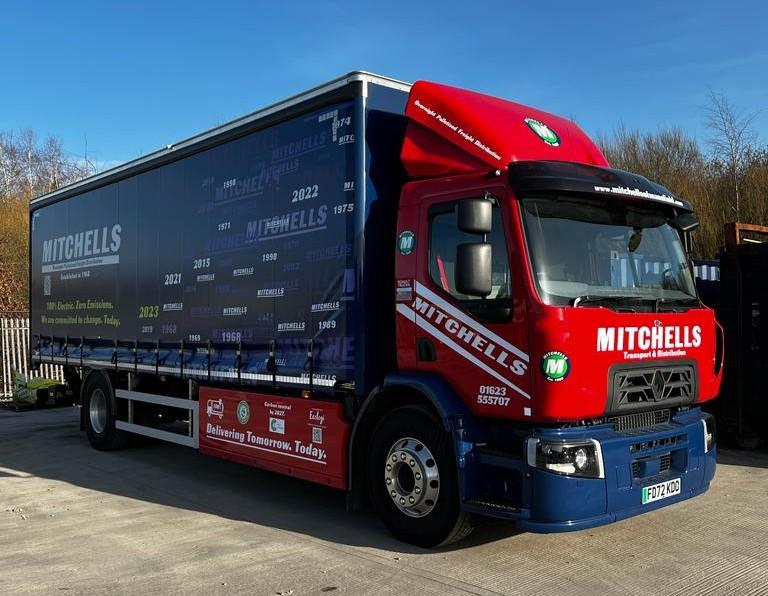 Silent, green and powerful: truck specifications
Our new electric vehicle is perfect for our urban deliveries in Nottingham City Centre. The new truck boasts:
Four battery packs which provide 66kW of energy each equipped with an onboard AC charger and compatible with DC fast charging
Gross Vehicle Weight Rating (GVWR) of 18 tonnes
Wheelbase: 6.100mm
Two electric alternating current synchronous motors
Max Torque of electric engines: 850Nm
Two-speed gearbox
Being able to keep up with a full days delivery on a single charge
The 18-tonne electric vehicle is equipped with several safety features including a full Halo System from SM UK which includes front, rear and side cameras to provide the driver with a better view of what is happening around them. The safety features of our newest vehicle are important not only for those in the vehicle's vicinity but also for our drivers. This will allow our drivers to operate safely while using the vehicle!
The new truck is fully qualified to operate in Low Emission Zones (LEZ) or Ultra Low Emission Zones (ULEZ). As Nottingham plan to become a carbon-neutral city by 2028, it's important for us to support our community and their goal.
"It's our responsibility as a distribution company to make more positive changes to help our planet and community. We are determined to continue to improve ourselves"

Richard Montgomery – MD of Mitchells
Pioneering a sustainable future in the palletised distribution industry
As we continue to look to the future and make positive changes, we acknowledge the fortunate position we are in to be able to help our community and lead the way in an electric future.
We have set goals to offset our carbon emissions until 2027 when we plan to be carbon positive. This means we will reduce our carbon footprint as much as possible while also offsetting the emissions we can't reduce. This will allow us to become carbon positive.
We believe it's important to us to leave a positive impact on our world for both our community and our industry.