At the beginning of June, our very own Derek Wells raised over £1,200 by skydiving for the armed forces Light Infantry Veterans Association and The 1st Battalion Light Infantry!
15,000 ft drop
To help raise funds for the associations, Derek bravely jumped from a plane at 15,000 feet. He completed the freefall tandem jump on 8th June 2023 and has raised over £1,200 in funds for both associations.
Mitchells are proud to have sponsored Derek and his jump, as we know he isn't a fan of heights! He's shown immense courage to raise awareness of the veteran's associations.
"It's important to help our veterans keep in touch with each other even if only once a year. It's a cause worth doing"

Derek Wells, Driver at Mitchells.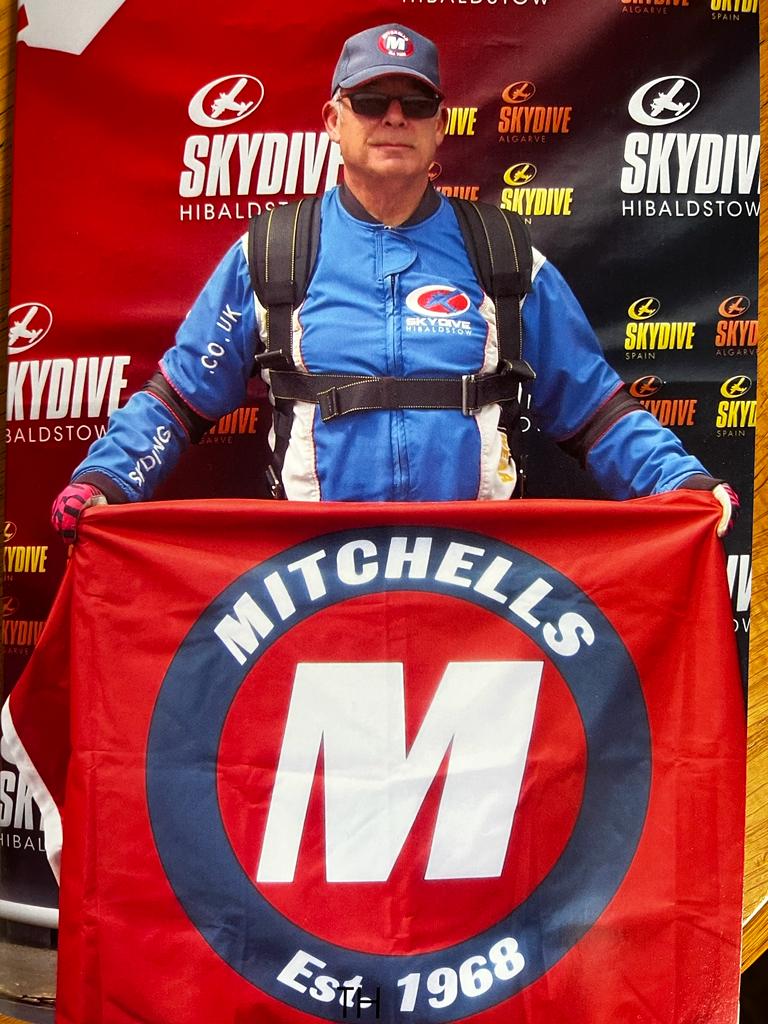 The Light Infantry Veterans Association
The Light Infantry Veterans Association annual reunion is a self-funded event. It's an essential event for veterans to meet and reminisce. Many of the veterans have little to no family, and the association helps these brave men and women spend quality time together and parade on the drill square at Sir John Moore Barracks in Shrewsbury. This was where many of the veterans trained.
The money raised will go towards the payment required for the Light Infantry Association to hold their annual reunion and military parade at Shrewsbury Town's football stadium, due to the former barracks being demolished.
The Sir John Moore Barracks used to be known as RAF Flowerdown until 1986 when it was renamed Sir John Moore Barracks, after Lieutenant General Sir John Moore. Sir John Moore, (13 November 1761 – 16 January 1809), also known as Moore of Corunna, was a senior British Army officer. He is best known for his military training reforms and for his death at the Battle of Corunna, in which he repulsed a French army under Marshal Soult during the Peninsular War.
The reunion and the barracks hold many memories, stories, and experiences for the recruits who passed through the famous gates. It is an important part of our veterans' history.
The 1st Battalion Light Infantry Association
The 1st Battalion Light Infantry's wreath and drape fund is for the brave veterans who have passed away. The association donates wreaths, coffin drapes and also donates to the families of the veterans who have passed. They also have veteran Buglers available throughout the country to play Last Post during ceremonies.
The money is raised by the association members from charity events throughout the year. However, sadly the funds for the association are very low as more and more of the veterans are passing.
Every year the association parades at the Cenotaph and places a wreath to remember all of the country's fallen heroes, which is funded by the association.
The associations require support from their communities to ensure they can carry on doing incredible work for veterans.
The Armed Forces Covenant
After seeing all of the hard work Derek has put into raising funds for the armed forces, the team at Mitchells thought it was the right thing to do by pledging our support.
The Armed Forces Covenant represents our nation's heartfelt pledge to ensure fair treatment and equal opportunities for those who bravely serve or have served in the armed forces, as well as their families. It guarantees that they should not encounter any disadvantages while seeking access to public or private goods and services in the UK.
The Mitchells family will help by supporting:
Supporting veterans through employment, recognising military skills and qualifications in our recruitment and selection process. While also working with the Career Transition Partnership (CTP) to support the employment of service leavers.
Service spouses and partners
Supporting service spouses and partners, partnering with Forces Families Jobs Forum and providing flexibility in granting leave for service spouses and partners before, during and after deployment.
Supporting our team who are members of the reserve forces, granting additional paid and unpaid leave for annual reserve forces training. By also supporting any mobilisations and deployment, and actively encouraging members of the Mitchells team to become part of the reserves.
Supporting our team members who are volunteer leaders in military cadet organisations, granting additional leave to attend annual training camps and courses. While actively encouraging the Mitchells team to become volunteer leaders in cadet organisations, supporting local military cadet units and recognising the benefits of employing cadets and ex-cadets.
By supporting Armed Forces Day, Reserves Day, Poppy Appeal Day and Remembrance activities.
Supporting armed forces charities with fundraising and supporting staff who volunteer.

"We're a family-run business and our family values have helped build a strong foundation and are something that continues to guide us even now."

Richard Montgomery, MD of Mitchells
Our values don't just mean the Mitchells team, it includes our customers and our community. It's important to us to leave a lasting, positive impact on our world – that's both the community we're based in and our industry. We support several organisations that are both local and national.
And pledging our support to the Armed Forces Covenant is part of helping our community and ensuring we help those that need our help.
Supporting those who have served and are serving in the armed forces and their families is an important duty. With several members of the Mitchells team being veterans we want to ensure they feel appreciated within their community and work environment.
We look forward to continuing our support for the armed forces and those who have bravely protected our nation and community. From the Mitchells family, we thank you.