It's important to us to leave a lasting, positive impact on our world. That's both the community we're based in and our industry.
Our goal is to be carbon neutral by 2027. This won't be an easy task! And we've got an uphill battle ahead of us. But that doesn't scare us. To become carbon neutral by 2027 we have enlisted the help of Webfleet. They've played a pivotal role in helping us decide whether an electric truck would be efficient.
Going Electric
Earlier this year we became the UK's first operator of an 18-tonne Renault E Tech D Wide electric truck from RH Commercial Vehicles. The East Midlands' largest independent Renault Trucks dealer.
This wasn't a decision we made lightly! By adding the electric truck to our fleet, we were making a big statement. We're passionate about creating a future for the next generation. One where we've made positive changes to help our planet.
All eyes were on us to see how this would play out. And we're happy to say we made the right decision. Not just for our planet but for our customers and community too.
As Nottingham plans on becoming a carbon-neutral city by 2028, we've already been testing out our electric truck in the city. Currently, the truck clocks 70 miles a day with 16 uses of the tail lift and is only delivering in Nottingham City Centre. Plus this uses only half a battery charge.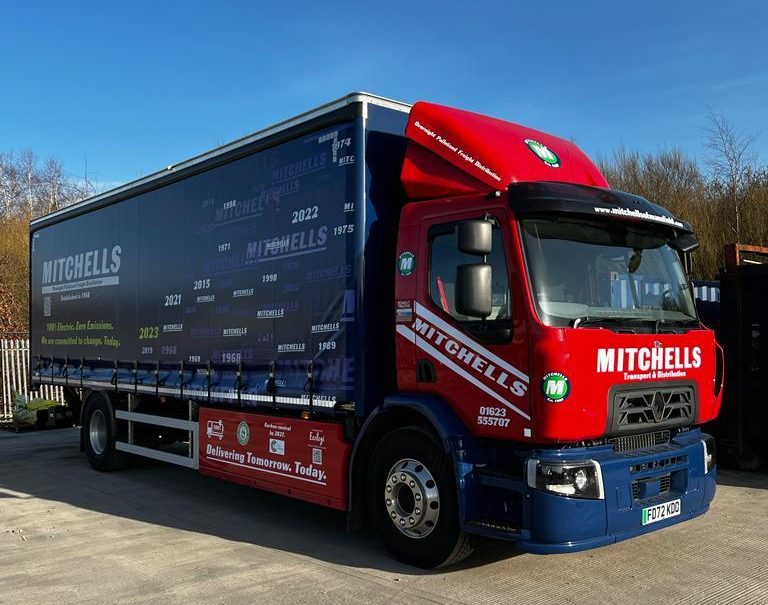 Webfleet
Webfleet, formerly known as TomTom Telematics, is one of the world's leading telematics solution providers and is used by businesses to improve vehicle performance, save fuel, support drivers and increase overall fleet efficiency.
We knew we had to make an informed decision when it came to adding an electric truck to our fleet. With the help of Webfleet telematics, we were able to use data to confirm which truck should be replaced and with which battery.
With Webfleet, we could closely track mileage, tail lift usage, and calculate the average speeds of the initial diesel truck, helping us anticipate exact energy needs.
This allowed us to avoid overspending on battery packs we didn't need and ensure the battery will perform right up to the end of its term.
In an effort to adopt more sustainable practices, we've chosen a practical and cost-effective approach to electric vehicle charging. Instead of investing in a pricey proprietary charge point, we decided to utilise a three-phase electrical cable connected to a charging post. This setup has proven to be efficient and reliable.
To ensure a seamless operation, we use Webfleet's comprehensive monitoring capabilities. Real-time email alerts notify us whenever the truck is plugged in, when it has reached full charge, and if any interruptions occur with the charger. This live data will assist us in keeping our charging efficiency at its best and dealing with any possible issues ahead of time.
Safety comes first
Our decision to adopt Webfleet OptiDrive 360 has been a game-changer for our fleet of 55 trucks. This innovative system acts as a companion for our drivers, gently guiding them towards safer and more considerate driving habits.
At Mitchells, we're immensely proud of our team, and our drivers are the heart of our operation. They're not just behind the wheel; they're the faces of our company out on the road. Our drivers' actions reflect our family values and our dedication to safety. With Webfleet's insights, we can quickly identify drivers who might need a little extra coaching, ensuring that everyone on our team excels behind the wheel.
OptiDrive 360 has become an integral part of our safety-conscious culture. By staying ahead of potential risks and promoting responsible driving, we safeguard our people, our reputation, and the safety of all road users.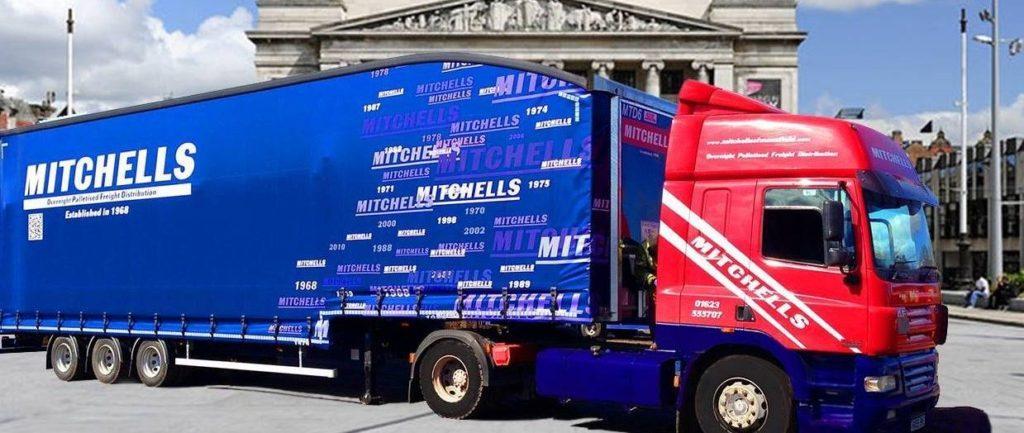 Real action for a greener future
HGVs are the second largest source of greenhouse gas emissions from transport in the UK.
We're pleased to be in the fortunate position to reduce our carbon footprint through the purchase of our electric truck, as we know this isn't an option for many hauliers.
And now we are helping our customers make greener choices too. Our customers can join the Mitchells Carbon Co-Op, where every delivery mile is offset using carbon credits.
As we embrace advanced technologies and inspire our customers to make eco-friendly choices, we're excited for the greener future we're collectively building. Our commitment to achieving net zero extends beyond just words; it's a driving force behind our actions, propelling us towards a cleaner, more responsible era of logistics.